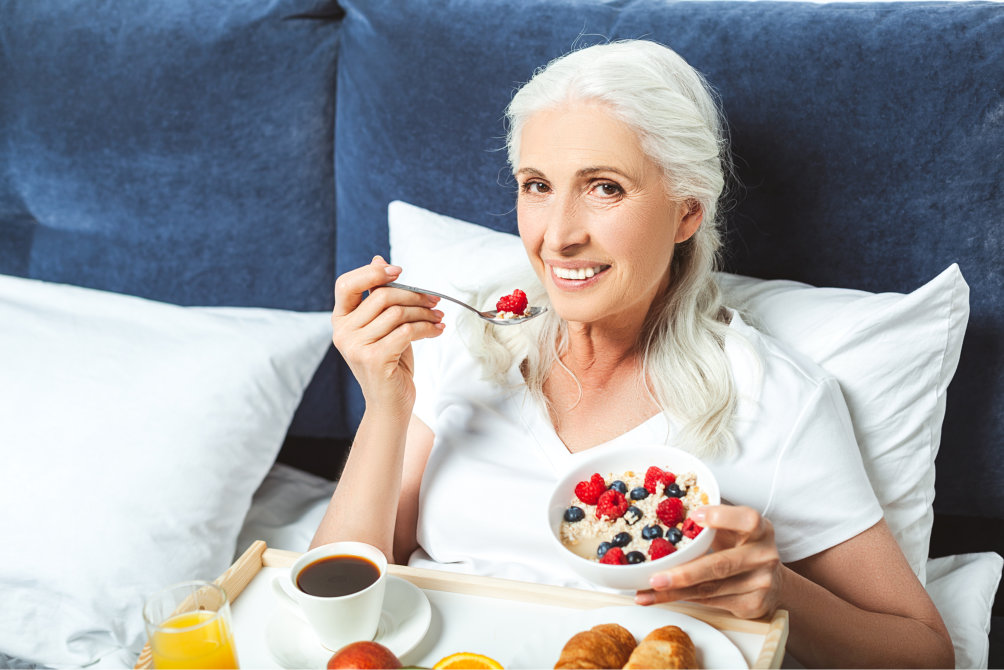 Fiber is a complex carbohydrate that benefits our bodies in a variety of ways. It comes in two types: soluble and insoluble.
Soluble fiber is digested in water and helps lower glucose and blood cholesterol levels. Foods with soluble fiber include oatmeal, chia seeds, nuts, beans, lentils, apples, and blueberries. Insoluble fiber, on the other hand, cannot be broken down and instead aids food in passing through our digestive system. This promotes regularity and prevents constipation, which most seniors often face. Foods with insoluble fibers include whole-wheat products (especially wheat bran), quinoa, brown rice, legumes, leafy greens like kale, almonds, walnuts, seeds, and fruits with edible skins like pears and apples.
Incorporating fiber into your senior loved one's diet is an essential part of keeping them healthy for a long. Fiber helps prevent a ton of health risks, such as diabetes, high blood pressure, cholesterol, and heart diseases to name a few. As your trusted provider of assisted daily living, we at In Home Senior Care can help your loved one follow a healthy and delicious diet at home.
Our in-home care service in San Antonio, Texas, offers compassionate 24 hours a day, 7 days a week, live-in, or on an hourly basis care to help individuals who can no longer care for themselves adequately.
Aside from meal prep and assistance, we also help with activities of daily living, such as light housekeeping, companionship, personal care, and more.
Enlisting the help of a home care agency in Texas allows you to maintain the wellness of your senior as you do other important things that benefit your family. Leave your older loved one in our hands.
For more information about our in-home senior care, our dependable team will be more than willing to answer your inquiries.